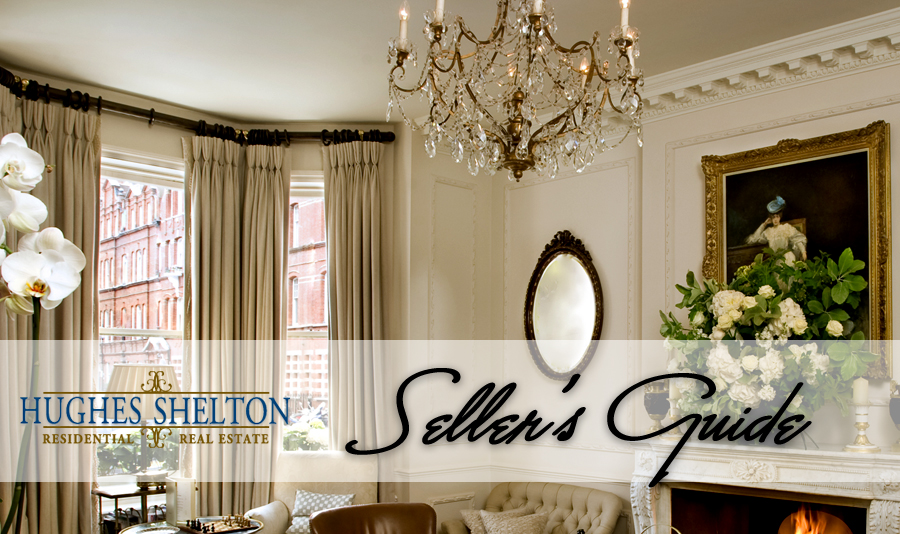 You've decided it's time to sell — what's next?
SERVICES ARE DIFFERENT AT EACH COMPANY – it pays to compare!
"Discount" companies that cut their fees and provide little or no services may under price your home to get it sold, so compare carefully.
Your choice of an agent is critical to having a successful real estate experience.  The Hughes Shelton Team and Coldwell Banker have the services you're looking for. We will provide you with analysis, advice, and serve as your advocate throughout the transaction.
Seller's Guide
In general, all home sellers approach the task with the same two goals in mind: get the best possible price in the least time. And while the details of the process may vary according to the type of home and local market conditions, following these seven steps increases the prospect of success.
1

Look Before You Leap

You'd never buy a home on a whim; you shouldn't try to sell one that way, either. So before you do anything, take some time to study the local market and current trends. The best way to do that is to schedule a pre-market consultation with the Hughes Shelton Team. We've sold thousands of properties, and are uniquely experienced in helping sellers understand what they can do to properly prepare their home for sale.
2

Learn Your Home's True Value

Nothing is more important than setting the right asking price for your home. That's why it's smart to get the help of a professional with the expertise and experience to get it right the first time. That's precisely what you'll receive in a professionally prepared Competitive Market Analysis (CMA) from the Hughes Shelton Team – at no cost or obligation.
3

Educate Yourself

While we're confident we can do the best job for anyone selling a home in Tampa Bay, we can do a much better job for those who really understand the selling process. That's why our services offer you the opportunity to get a complete education in home selling and home ownership at your convenience.
4

Choose the Right Sales Associate & Company

In our minds, of course, the smartest sellers are those who list with the Hughes-Shelton Team and Coldwell Banker, because no one can match the training and resources that we bring to the job.
5

Use the Right Tools to Reach the Right Target

A fast, profitable sale is seldom a matter of luck. Far more often, it's the result of a sound marketing plan that makes the most of all the tools a realtor has at his or her disposal. With the Hughes Shelton Team, those tools are formidable indeed – from the collective resources of our nation-wide office network, to a relocation organization whose ability to reach out-of-town buyers dwarfs that of any other Tampa Bay area broker. PLUS we have a host of unique, exclusive programs to generate buyer interest in your property. Please beware — "discount" companies, with little or no programs or resources, will undersell your home to get it sold.
6

Give Your Buyers an Added Value…

Whether your buyer is moving in from across the country or around the corner, they'll want all the help they can get. And that's just what they'll get if your home is listed with the Hughes Shelton Team, thanks to our exclusive Concierge Home Services. We help coordinate everything from moving arrangements to purchasing appliances and home furnishings, free of charge to buyer and seller alike. That's one extraordinary added value for your buyer. And one big competitive advantage for you.
7

…and Added Peace of Mind Too!

Another key selling point that the Hughes Shelton Team can add to your home is a American Home Shield Home Warranty. The plan, which covers repair and replacement costs in the event of unexpected breakdowns to major appliances and mechanical systems, protects you while your home is on the market and your buyer for one full year after closing. It's the best plan of its kind, and it's available through Coldwell Banker.
Latest Tweet:
Just Listed...4908 Lyford Cay Rd...Culbreath Isles...Open for Preview Wednesday, 2/21, 10:30am - 1:30pm...See... https://t.co/8Ij8tvTOu3
- Tuesday Feb 20 - 3:11am
Address:
Coldwell Banker Residential Real Estate, LLC
500 N Westshore Blvd., Suite 850, Tampa, Florida 33609
Phone: 813 286 6563
Fax: 888 311 8217
Coldwell Banker Residential Real Estate, LLC